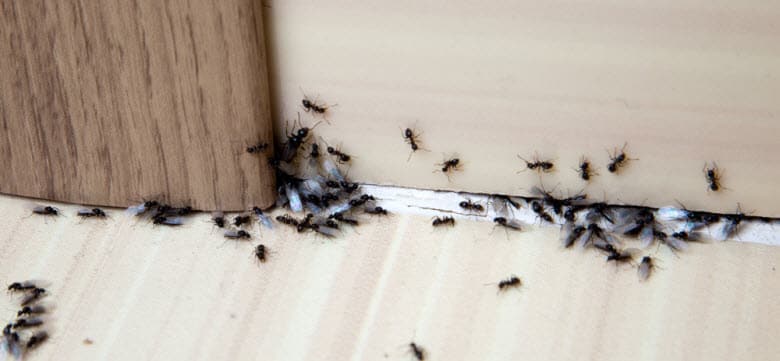 As a professional ant exterminator, we're all too familiar with ants and the nuisance they present homeowners and business owners alike. There's nothing worse than opening up a bag of flour only to find a bunch of ants crawling around inside.
Got pets? You're sure to find clusters of them over, around, and in your dog or cat bowl if ants aren't kept under control.
If you see ten or twelve ants you're probably facing a colony of up to 500,000 of them. Where are they? In the walls. In your foundation. Just outside your home, carrying food to and from their nest.
Types of Ants in Minnesota You May Be Dealing With
There are around a dozen types of ants in Minnesota that you may be having a problem with. For detailed information on these ants including pictures so you can identify them, visit the University of MN Extension website.
Common household ants include:
Carpenter Ants
Cornfield Ants
Larger Yellow Ants
Pharaoh Ants
Thief Ants
Pavement Ants
Less common household ants include:
Field Ants
False Honey Ants
Odorous House Ants
Acrobat Ants
DIY solutions To Get Rid of Ants
There are plenty of pests that you can get rid of with a trip to the hardware store, and we're honest and open about which pests those are. Ants aren't one of them. They are too persistent. You can spray and spray only to watch them return days later. Meanwhile, you're endangering your kids and your pets with these chemicals.
Professional Ant Extermination Is Your Best Solution
As ant exterminators we start by locating the nests. There may be more than one, and we've got to address them all at once to make sure the ants don't come back. They may be in your baseboards, in the moldings, nesting in the backs of your cabinets, or all sorts of places.
While we're at it, we look for other associated pests. For example, if you've got ants you might also have honey bees, busy producing honey that attracted the ants in the first place. We'll want to help you get rid of both problems at once.
Next, we identify the types of ants you have. DIY solutions are often ineffective against ants simply because they're targeting the wrong ant species. If you have multiple ant types in your home you might require a more sophisticated solution.
Finally, we apply these chemicals, which are both safer and stronger than the ones you can get your hands on at the local hardware store.
How Many Ant Treatments Will You Need?
95% of the time you'll just need one, if your pest control company does a good job of exterminating the nest.
That's why we don't make any of our customers sign ongoing ant-removal contracts. While there are special cases and homes with special needs, most don't really need to pay to have us come out to spray on an ongoing basis.
That doesn't mean we won't come out again if you need us. Every house is different, and we tailor our services to the unique needs of every customer. It just means that we are watching out for your wallet, and aren't going to lock you into paying for services you don't really need.
Don't throw out another bag of sugar or toss another bowl of cat food because the ants have taken over!
Call Comfort Pest Control of MN to take care of your ant problem today!
(763) 427-4430
We exterminate ants in homes and businesses throughout Anoka County and parts of Chisago, Hennepin, and Washington counties. Some of the cities in our service area include Andover, Anoka, Blaine, Brooklyn Park, Chisago City, Circle Pines, Coon Rapids, East Bethel, Forest Lake, Ham Lake, Lindstrom, Lino Lakes, Maple Grove, Minneapolis, Plymouth, Ramsey, Spring Lake Park, and Wyoming.