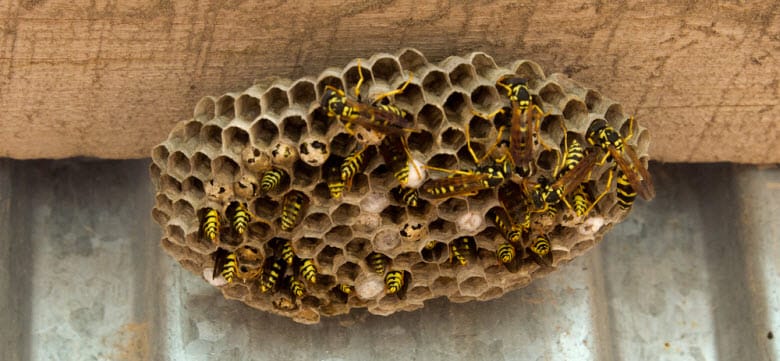 As bee removal experts and wasp exterminator professionals, we're all too familiar with the potential dangers wasps, bees, and hornets present. They are aggressive about defending "their" territory and won't hesitate to sting you if you enter it. Quite the problem if they've decided to turn your front porch into "their territory!"
Stings aren't the only risk. Bee honey can attract other pests, like mice and rats and even ants.
So don't hesitate to call us, because we can take care of the problem quickly and safely.
Treating Bees, Wasps, and Hornets
Our process starts with a thorough inspection. While the big hive over your door is obvious enough, there are likely to be "hidden hives" that you can't see, such as yellow jacket ground nests.
We often find nests inside walls and attics, too. The last thing a homeowner needs or wants is for their home to become a home to these pests!
After we've located all the nests in and around your home we'll look at next steps. If the bees in question are honey bees then we use safe, humane removal procedures that can get these important insects somewhere safe so they can do their pollination work without troubling your home and family.
If you've got yellow jackets, baldfaced hornets, paper wasps, or bumble bees then we'll move on to extermination. Once that's done, we may also seal the entrances and exits of the hives, or of entry points into and out of your home.
While over-the-counter-pesticides are available there are a few reasons why you might want to think twice before reaching for them.
Many people are extremely allergic to bee and wasp stings.
Even if you aren't allergic, a swarm can send you to the hospital if they sting you enough times.
Killing a single wasp or bee will release a pheromone which encourages these insects to swarm against you. Wasps and hornets can sting repeatedly.
Improper use of a wasp or hornet spray can be just as dangerous to you as it is to the wasps.
If you fail to kill the nest you'll have handled nasty chemicals and you'll still have a nest.
You may make the swarm all the more defensive and aggressive. Aerosol pesticides are known for being extremely ineffective.
Treating certain pests, like yellow jackets, requires sealing the nest after the application of a pesticide. If you seal the nest without killing every yellow jacket then they will move on into your home. If some of them weren't there already, you've just made the problem worse.
There's always the chance that you'll misidentify the pest and use the wrong solution to try to get rid of them. Do you really know if you have wasps, hornets, bumble bees, or honey bees?
Finally, pest control professionals have legal access to stronger pesticides than homeowners do. This means our solutions are likely to be more effective. Sometimes they're even cheaper, after you factor in the price of the pesticides along with your time, effort, and safety.
Deterring Bees, Wasps, and Hornets
After we've removed or exterminated these pests, there are a few minor steps you can take to prevent them from coming back.
Hornets and yellow jackets are often attracted to trash. Sealing your trash and making sure it's inaccessible is a good way to make your home less attractive as a nest. It also means you avoid the risk of stings when you handle your garbage.
Normally bees, wasps, and hornets only require a single treatment, which means you shouldn't have to sign a regular contract that has us coming out every few months. 95% of the time, calling us means your bee, wasp, or hornet problem should be gone for good, especially if you take steps to avoid creating an attractive environment for them.
If you're suffering from a bee, wasp, or hornet problem, don't wait!
Call Comfort Pest Control of MN Today!
(763) 427-4430
We remove honey bees and exterminate bees, wasps, and hornets in homes and businesses throughout Anoka County and parts of Chisago, Hennepin, and Washington counties. Some of the cities in our service area include Andover, Anoka, Blaine, Brooklyn Park, Chisago City, Circle Pines, Coon Rapids, East Bethel, Forest Lake, Ham Lake, Lindstrom, Lino Lakes, Maple Grove, Minneapolis, Plymouth, Ramsey, Spring Lake Park, and Wyoming.