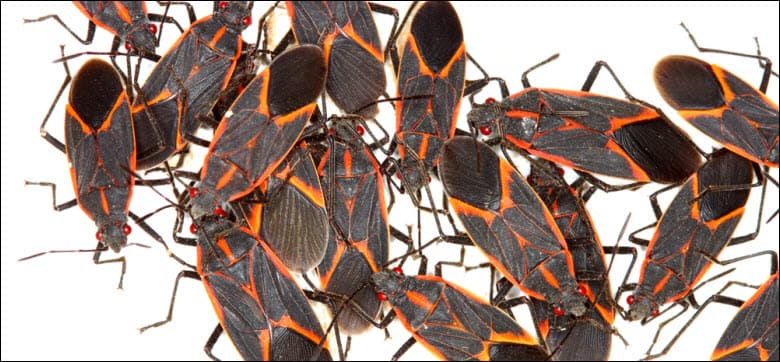 Are your furniture, curtains, and carpets getting stained by boxelders? You can vacuum up a small boxelder bug or two, but if you've got an infestation it may be time to call a boxelder bug exterminator.
These bugs don't require the same level of inspection as some pests such as ants, bees and wasps, and mice. They're opportunists who are attracted to heat, and tend to be a bigger problem in the fall when they're looking for a warm place to live during the winter.
The University of Minnesota Extension website provides a lot of great information on boxelder bugs including the lifecycle of boxelder bugs and some DIY solutions you can try.
If you have a serious infestation or just don't want to deal with them yourself, we're more than happy to help. We control these pests by using an EPA-approved, professional-grade pesticide product that you can't get at your local hardware store. It's a product that won't harm your house or your landscaping, and will end the infestation and prevent it from returning (at least for the current season). We also focus on sealing out the bugs so they won't return.
As we mentioned previously, these bugs typically don't become a problem until the fall when they're looking for warm places to hide. You'll usually see them around the outside of your home where there is a lot of southern or western exposure where it's warmer.
Are Boxelder Bugs Dangerous?
Boxelder bugs are mostly just a nuisance. They don't bite, sting, or carry any diseases. They won't even breed inside your home. But their stains are no joke. We've already mentioned furniture, curtains, and carpets. They can stain your exterior siding too, which means you'll want to control them outside the home as well as inside the home.
We're approved to use heavy-duty products that are more effective than OTC alternatives. The product is a water-based microencapsulated product that won't wash away in the rain or snow. Our products help with other nuisance pests too, such as spiders and centipedes. We apply the product 15-feet up the siding of your home to make sure we catch them all and prevent them from coming back. We'll also look to identify any areas around your home that they may be entering and we'll recommend sealing those areas.
Our products are also safer than the average hardware store pesticide. Calling us can help you protect your children and pets, as well as your sanity.
There's nothing cozy, inviting, or pleasant about a home that has tiny bugs crawling all over it, even if they are totally harmless. And nobody wants to think about sitting on a chair that's streaked with bug stains!
How Many Boxelder Bug Treatments Do You Need?
While most boxelder bug treatment products are only warrantied for 60 days, 95% of the time we can get rid of your boxelder bug problem for good (at least for the current season) with a single treatment. The other 5% of the time we'll put together a customized treatment plan for you that will address the need for subsequent treatments. You'll usually only require recurring treatments if you have several boxelder trees in your yard.
We don't require contracts of any customers. You can always call us back if you have a repeat problem. Most of our customers don't, at least, not until the following year when the next crop of pests arrive.
If you're suffering from a boxelder problem, don't hesitate to call, especially August through November, when they're at their most active!
Call Comfort Pest Control of MN to take care of your boxelder bug problem today!
(763) 427-4430
We provide boxelder bug control in homes and businesses throughout Anoka County and parts of Chisago, Hennepin, and Washington counties. Some of the cities in our service area include Andover, Anoka, Blaine, Brooklyn Park, Chisago City, Circle Pines, Coon Rapids, East Bethel, Forest Lake, Ham Lake, Lindstrom, Lino Lakes, Maple Grove, Minneapolis, Plymouth, Ramsey, Spring Lake Park, and Wyoming.