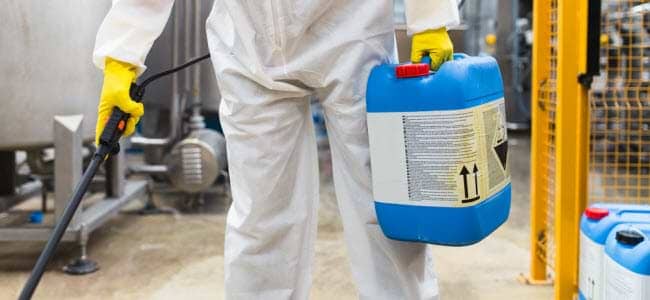 Mice and insects can have a severe negative impact on your business. If you run a restaurant they could mean losing your Department of Health certification. At a factory they can cause major distress to your employees which result in major work stoppages and disruptions. Mice can even damage your expensive equipment.
They can also become a liability issue. If a customer, vendor, or employee gets stung, bitten, or sick because of an insect or rodent problem then you're likely to need a lawyer. It's hard to overstate the impact to your reputation, too.
Comfort Pest Control of MN has the experience, professionalism, and skill to get rid of your company's pest problem for good.
Types of Commercial Properties We Serve
While we provide commercial and industrial extermination and pest removal services for all types of businesses, we do a lot of work for restaurants and factories, too.
Each of these business types require specialized care, especially restaurants! We take every step to make sure our methods are safe and effective. We also work hard to make sure we do not disrupt your business or alarm your customers.
Our products are all EPA-approved and safe so they don't risk impacting the health of your clients, customers, vendors, or employees.
Ask About Monthly and Bi-Weekly Service
Businesses have different needs than homes. The high traffic of goods and people in and out of your average business means that pest control can be a recurring problem for businesses in a way that is different from homeowners.
Because of this, we do offer contract services where we come out bi-weekly or monthly to ensure you never have to see a bug at your location again.
We can also tailor-make a program just for you if your needs are different. We've done quarterly and annual agreements as well. It's your call. We'll give you recommendations, but if you tell us what you want we're happy to honor that and to put together a program for you.
And of course if your particular pest problem can be done with just one visit we'll tell you. We only recommend contract work if it makes sense or you demand it.
Affordable Commercial Pest Control
We are very competitive about our pricing. We're not the cheapest but we're definitely not the most expensive either. If you call around we're confident you'll agree.
Commercial Pest Control Services We Provide
We provide services for the following pests:
Our Commercial Service Area
We provide commercial pest control services throughout Anoka County and parts of Chisago, Hennepin, and Washington counties. Some of the cities in our service area include Andover, Anoka, Blaine, Brooklyn Park, Chisago City, Circle Pines, Coon Rapids, East Bethel, Forest Lake, Ham Lake, Lindstrom, Lino Lakes, Maple Grove, Minneapolis, Plymouth, Ramsey, Spring Lake Park, and Wyoming.
Call Comfort Pest Control of MN Today!
(763) 427-4430