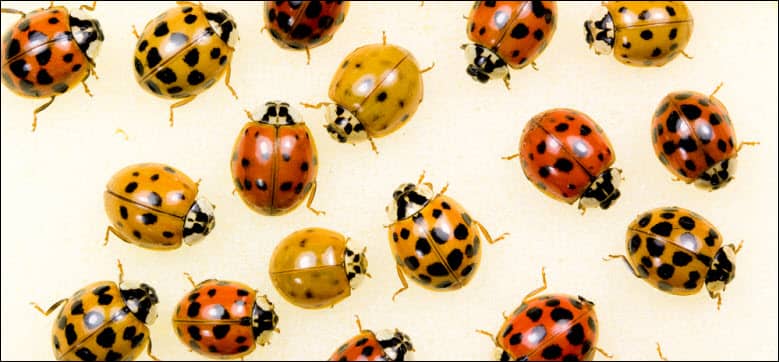 Ladybugs, or Asian Beetles, are harmless enough. They don't carry diseases, they don't damage your property, and their bite, such as it is, is laughable but they are a nuisance!
They swarm, though, and eventually die, which means unsightly bugs crawling all over your home, and more unsightly dead bugs that have to be swept up or vacuumed away. There's never just one: they arrive in huge, overwhelming, unpleasant swarms.
Often, they join forces with boxelder bugs, invading your home in the colder months in the fall because they don't like the weather outside anymore than you do.
If you want to learn more about these bugs, we recommend a couple sources:
Multicolored Asian Lady Beetles by the University of Minnesota Extension
Addressing Myths About Multicolored Asian Lady Beetles in Minnesota by the University of Minnesota Extension
Ladybugs vs. Asian Lady Beetles
Ladybugs and asian lady beetles are not exactly the same insect. The points we make throughout this page pertain primarily to asian beetles and NOT ladybugs but we refer to them as ladybugs because when customers call us they rarely say, "I have a problem with asian beetles." They almost always say instead, "I have a problem with ladybugs. Can you help?" Likewise, when people search for pest control services for these pests they are almost always searching for "ladybug pest control" and not "asian beetle pest control."
Ladybugs are actually beneficial, rarely congregate in large groups, and unlike asian beetles that seek homes for warmth in the fall, ladybugs look to be outdoors when it gets cold in the fall! We rarely go to a house and see a "ladybug infestation" even though customers often call us telling us they have ladybugs everywhere. In almost every case we're dealing with asian lady beetles because they are true pests that you want to get rid of!
Let's just put it this way. If you're calling us for help, you're dealing with asian lady beetles because ladybugs are not a pest as you won't even know they are around unless you see them in your garden.
Ladybug Pest Control and Removal
We take a three step approach in dealing with these pests. First, we inspect your home to figure out where the ladybugs are coming from.
Next, we use a commercial-grade insecticide to your exterior walls that will kill ladybugs as they attempt to enter your home. The products we used are all safe and EPA-approved. They're also micro-encapsulated, which means they're water-resistant and capable of withstanding both rain and snow. The product is safe to the touch about 45 minutes after application.
Finally, we work on sealing all the entry points. This means we caulk windows and doors and seal out other small cracks and crevices so they can't get back in.
Keep in mind the best time to seal off your home is in the summer, before the bugs start moving inside. While you can get over-the-counter, hardware-store insecticides that are designed to help you control these lady bugs, they rarely kill them all. "OTC" pest control products can also be dangerous to children and pets.
Our products and techniques help you keep other pests out of your home as well. They're effective against centipedes, spiders, and more. After all, who wants to deal with one pest just to fight another?
How to Deter Lady Bugs
You can do a great deal to prevent ladybug problems by taking care of your home during the summer. Caulking and sealing openings in your doors and windows can be a big help, as can replacing and repairing all of your window, patio, and door screens.
You can also try applying an OTC outdoor product fifteen feet up the side of your home, starting with the foundation.
If the DIY option isn't your thing or if you've tried and you still have a ladybug problem, give us a call. We'll be more than happy to get rid of them for you!
Will You Need Multiple LadyBug Treatments to Control Them?
Most of the time we can help homeowners get rid of their ladybugs with a single treatment. That's why we don't require contracts like many other local pest control companies do. There's no need to keep coming back to spray if the problem is the problem is taken care of.
Some homes have special needs and will need more complicated treatment plans. We deal with every home on a case-by-case basis to make sure we're meeting the unique needs of every customer but in the vast majority of cases you will NOT need multiple ladybug treatments. You will likely only need one treatment!
If ladybugs are driving you crazy, don't delay!
Call Comfort Pest Control of MN to get rid of your ladybugs!
(763) 427-4430
We provide ladybug control services in homes and businesses throughout Anoka County and parts of Chisago, Hennepin, and Washington counties. Some of the cities in our service area include Andover, Anoka, Blaine, Brooklyn Park, Chisago City, Circle Pines, Coon Rapids, East Bethel, Forest Lake, Ham Lake, Lindstrom, Lino Lakes, Maple Grove, Minneapolis, Plymouth, Ramsey, Spring Lake Park, and Wyoming.