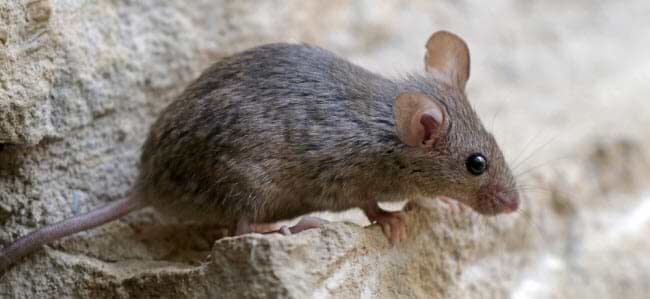 If you've noticed rodents like mice (or worse rats) crawling and scuttling about your home or business, whether at night or during the day, you should call a professional mice exterminator as soon as possible. Don't give those mice time to reproduce and turn into your own personal plague! Mice and rats may appear to be small, harmless animals, but they can all too quickly become a health hazard.
Mice: Tiny Creatures, Big Trouble
They're in your attic and in your walls, happily munching away on just about anything they can find, including wood, glue, and insulation. They may even work their way inside, where they'll turn your furniture into nests and help themselves to anything they can find in your pantry.
They may even get inside of your appliances, where they will sometimes electrocute themselves on your control panel. That kills the mouse, but it also kills your appliance.
Mice will eat 15% of their body weight every day. That means they're leaving lots and lots of unsanitary droppings and urine all over your home. Eventually your home is going to take on an unpleasant smell, both from their waste and from a mice or two that will inevitably die in your walls, attic, or some other hidden area in your home.
Their droppings aren't the only source of concern, since their saliva is a potent disease-carrier as well. Mice carry salmonella, Lyme disease, meningitis, ringworm, and other pathogens.
You can get a cat, of course, but mice reproduce so fast they've been known to overwhelm cats too, which is the same problem you'll find if you try to reach for DIY mouse traps: if you have a serious infestation, mouse traps just aren't going to be up to the challenge. Not when mice have 2-7 babies every 30 days!
In six weeks, those babies are old enough to have babies of their own.
Mice are also smart (remember they're the animal scientists keep running around in mazes). That means sooner or later they'll know exactly how to avoid your traps. They've been known to use traps and other items used in home remedies as food and as nesting material.
Many homeowners find that it's simply cheaper and more effective to call an exterminator quickly. As professional mice exterminators, we specialize in all of the traditional rodent removal methods; but we also offer some of the most green-friendly, cutting-edge rodent control tactics. These include baits and traps that don't use toxic poisons.
Professional Mice Extermination & Rodent Removal
We not only get rid of mice and rodents, but we also thorough inspect your home or business to determine where they are coming from in the first place. Any potential entry points we find we will seal up. If you have a mouse or other rodent problem, we're here to help. Call us today for a free estimate.
Call Comfort Pest Control of MN to take care of your rodent problems today!
(763) 427-4430
We provide professional mice extermination and rodent removal in homes and businesses throughout Anoka County and parts of Chisago, Hennepin, and Washington counties. Some of the cities in our service area include Andover, Anoka, Blaine, Brooklyn Park, Chisago City, Circle Pines, Coon Rapids, East Bethel, Forest Lake, Ham Lake, Lindstrom, Lino Lakes, Maple Grove, Minneapolis, Plymouth, Ramsey, Spring Lake Park, and Wyoming.