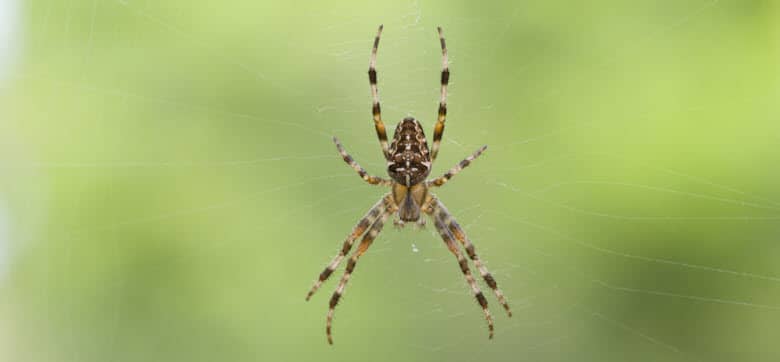 If you've got arachnophobia, the sight of a spider inside of your home can be downright unbearable. But fear isn't the only reason you might want to think about getting them removed by hiring a professional spider exterminator.
Spider bites can be painful, even if the biting spider is not particularly venomous. They also breed quickly, and it's impossible to have a peaceful, pleasant home when you've got hundreds of tiny spiders crawling all over your home.
Often, spiders are also a sign that you've got a larger pest control issue. They're coming into your home because they're feasting on other pests worth worrying about.
DIY Spider Control
If you are only seeing one or two spiders then an over-the-counter spider spray can often do the trick. Sometimes you won't even need a spray. You can use sticky spider traps instead or simply swat them dead with a fly swatter.
The University of Minnesota Extension recommends capturing them and releasing them outdoors whenever possible. They also recommend keeping your home free of clutter, since stacks of boxes, magazines, or bags can all serve as places where spiders like to hide.
You only need to worry about calling us if you really are seeing an infestation, or if you're starting to see other, more concerning infestations like ants, boxelder bugs, or bees, wasps, and hornets. Spiders are not dangerous, and unlike some pests they generally don't damage the home.
Of course, you're also welcome to call us if you're terrified of spiders and just don't want to deal with them yourself.
Our spider control products are safe, effective, and EPA-approved. They also tend to be safer for children and pets than over-the-counter spider sprays. While we're in your home we can also conduct a thorough inspection to make sure you don't have other insect problems that need to be addressed.
Spiders are most likely to enter your home in the colder months, following other insects who are trying to take advantage of your warm, safe winter den.
Are Spiders in Minnesota Poisonous?
Some spiders native to Minnesota are poisonous to other bugs, but they are not poisonous to people. Poisonous spiders like black widows or brown recluse spiders are native to our area.
Some brown recluse spiders do migrate in from other areas, hiding in clothes or cardboard boxes as people move in from other areas of the country. It is very rare to see these little migrants explode into an infestation worth worrying about, however.
Will You Need Regular Treatments to Get Rid of Your Spiders?
If you have a spider infestation a single treatment should do the trick. It's rare to need more than one treatment to exterminate spiders, which is why we don't push contracts or ongoing treatments!
Some homes and businesses do have special or unique needs, and we're happy to work out a customized treatment plan with those customers if its necessary. You're also welcome to call us out as many times as you need.
You don't have to tolerate spiders if they're giving you a bad case of the creepy crawlies. Contact us today so we can get rid of those nuisance spiders.
Call Comfort Pest Control of MN to take care of your spider problem today!
(763) 427-4430
We provide residential and commercial spider extermination throughout Anoka County and parts of Chisago, Hennepin, and Washington counties. Some of the cities in our service area include Andover, Anoka, Blaine, Brooklyn Park, Chisago City, Circle Pines, Coon Rapids, East Bethel, Forest Lake, Ham Lake, Lindstrom, Lino Lakes, Maple Grove, Minneapolis, Plymouth, Ramsey, Spring Lake Park, and Wyoming.